This note was just sent to us by a long-time Customer of Today's Collision, Tim D:
"Dear Matt,
This is brief note to let you know that as I look back over the fine work done by Today's Collision Repair in Malden on my auto over the years, I feel I have to reach out to you or someone there to say how impressed I am with the workmanship that the workers do at Today's Collision Repair in Malden. So, maybe you can pass this on to the workers in the shop?
Here goes:  My little green Mini Cooper-S has been in a number of accidents since I've owned it. But, you know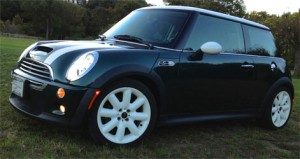 what?…… It looks as perfect as it was when I first bought it.  In fact, most of the Cooper's body is newer!  And, thanks to the 12 year rust warranty, some sheet metal has been replaced due to rust.
I might add that I was also impressed with the brief tour that the production manager gave me when I visited in the Spring of this year. Perhaps someday there will be documentary done on the shop work at Today's Collision.  I'm sure that there are interesting stories about some special jobs that Today's Collision has done for its clients.  It would make for an interesting TV program.
Finally, having owned many cars since my first car, a 1965 Olds 442 convertible, I can say that Today's Collision does the best work by the nicest people, on time, and always with perfection.  Perfection is important when one has a very special car, and you people succeed in that regard."
Sincerely,
Tim D.
Thank you for the kind words Tim!
https://todayscollision.com/wp-content/uploads/2013/11/Tim_Mini_Cooper_Slider-Main.jpg
250
652
todayscollision609
https://todayscollision.com/wp-content/uploads/2018/01/logo-500-width.png
todayscollision609
2013-11-12 16:39:15
2017-12-15 02:18:12
Mini Cooper Repairs at Today's Collision