Some of you may remember our very first Recycled Rides™ event where we donated a vehicle to Mass Fallen Heroes veteran, Zachary O'Grady in 2015.  Since then, our relationship with the team members at Massachusetts Fallen Heroes has grown, and has become one of friendship.  The way their organization supports its members is unrivaled.  Each member has their personal story and we learn more and more of the sacrifices that have been made each time we get together with them.
We met Gold Star Father, Paul Monti, at one of our donation events, and he quickly became a close friend of ours.  Paul's son, US Army Sergeant First Class Jared Monti, died while serving in Afghanistan in 2006.   Jared was awarded the Medal of Honor in 2009.  Paul has driven Jared's truck since his death as a way to remember and feel connected to him.  Paul's story inspired the Number One Country Song recorded by Lee Brice, "I Drive Your Truck."
The truck, a 2001 Dodge Ram 1500 V8, needed some major body and mechanical work for Paul to keep it on the road.  When he could no longer get an inspection sticker, Paul reluctantly handed over the keys.  (Thank you, Paul for trusting us with your precious memories.)  This week, we were able to return the truck to Paul, and he's back on the road.  Revealing the truck to Paul had us mixed with emotions of pride, joy, empathy and sadness.  Watching Paul and the truck pull away from our shop, knowing that a Father can carry on with his tribute and memories of his son was a vision we will remember forever.  A special thank you to those employees who gave their time to work on the truck – Mike Walton, Mark Murray, Sal Diaz, Joe Firth, Fredy Correia, Adam Landry and of course, our own Bobby Cobb who insisted on personally painting the vehicle.  To our friends at Massachusetts Fallen Heroes, we thank you for your sacrifice, and all the work you do to help others!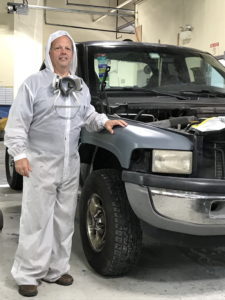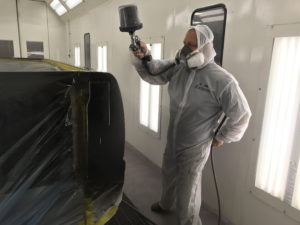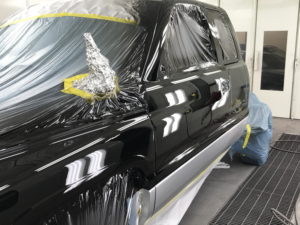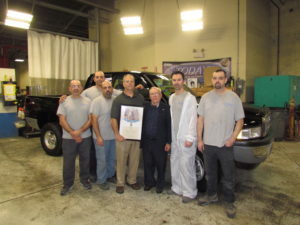 Additional Photos: FB Album
https://todayscollision.com/wp-content/uploads/2017/11/Main-102517-Paul-and-Bobby-_M-1.jpg
2304
3072
todayscollision609
https://todayscollision.com/wp-content/uploads/2018/01/logo-500-width.png
todayscollision609
2017-11-01 15:11:34
2017-12-13 04:33:33
Truck Refurbished for Gold Star Father Paul Monti